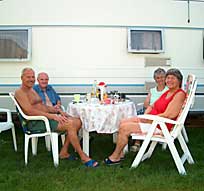 Basic cabins
We have 12 basic cabins (8–12 sq.m).
The cabins each sleep 2 – 4 persons, and each have a fridge, cooking element and heater.

Tents, campervans and caravans
We also have an area designated for tents, campervans and caravans.

Sanitary facility
Shared sanitary facility with separate sections for men and women.
Toilet, shower and laundry with washing machine and clothes drier.